Overview

A bunion, (medical term: hallux abductovalgus) is a condition resulting in boney prominence at the inside of the foot at the big toe joint. A bunion occurs when the big toe begins to deviate toward the second toe. The biggest misconception is that bunions occur from an overgrowth of bone. While that may be true in very few people, the bunion really represents a dislocation of the big toe joint as it bulges against the skin.

Causes
Women traditionally have a higher rate of bunions, which is to be expected, since it is they who have traditionally worn shoes with high heels, a narrow toe box, or whatever fashion dictates from year to year. However, men can suffer from bunions as well, as can anyone for whom the right (or wrong) conditions exist, poor foot mechanics, improper footwear, occupational hazards, health and genetic predisposition. Finally, bunions have long been a condition associated with the elderly, and although they often appear in conjunction with inflammatory joint diseases such as arthritis (which is often associated with age), they can strike at any point in life, including adolescence.

Symptoms
Symptoms, which occur at the site of the bunion, may include pain or soreness, inflammation and redness, a burning sensation, possible numbness. Symptoms occur most often when wearing shoes that crowd the toes, such as shoes with a tight toe box or high heels. This may explain why women are more likely to have symptoms than men. In addition, spending long periods of time on your feet can aggravate the symptoms of bunions.

Diagnosis
A simple visual exam is all it will take for your doctor to determine whether you have a bunion. He or she may also ask you to move your big toe in order to ascertain your range of motion. Your doctor may also look for any inflammation, redness, or pain. X-rays can help your doctor determine the severity and cause of the bunion. Your doctor may also ask you questions about your footwear, the symptoms you are experiencing, and if other family members also suffer from the condition. All these factors will help him or her diagnose you properly.

Non Surgical Treatment
Treatment falls into two broad categories, conservative and surgical. From a conservative standpoint, efforts are directed at correcting faulty foot mechanics with custom molded insoles and relief of symptoms. These include Custom Orthosis to stabilize the abnormal motion of the hind and fore foot. Shoe gear modification: Using shoes with larger toe boxed and more supple materials. Changes in activities. Try to avoid those things which cause symptoms. Anti-inflammatory medication for periodic relief this includes cortisone injections into the joint as well as oral medication.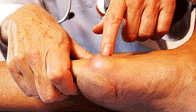 Surgical Treatment
Bunion surgery is most often a day case or one night in hospital. Surgery can be done under ankle block (patient awake) or general anaesthetic. It is best to rest with the foot elevated for the first 2 weeks after surgery. The foot is bandaged and a special sandal supplied by the hospital is worn for 6 weeks. Sensible shoes are to be worn for a further 6 weeks after the bandages are removed. It will take between 3-6 months for the swelling to go down. It will take 12 months before everything completely settles. It is also important to remember that not all bunion operations are entirely successful.